PMEGP Online Application Registration Process 2020-2021. PMEGP e Portal Login at kviconline.gov.in
PMEGP
What is PMEGP?  Given the term scheme and help group for the rural and urban residents, Prime Minister's Employment Generation Programme (PMEGP) is an official social scheme which was established by the Indian government to help in solving unemployment cases among average and low-class citizens in setting up new micro finance groups. The scheme runs under the great KVIC Khadi & Village Industries Board and District Industries Centre.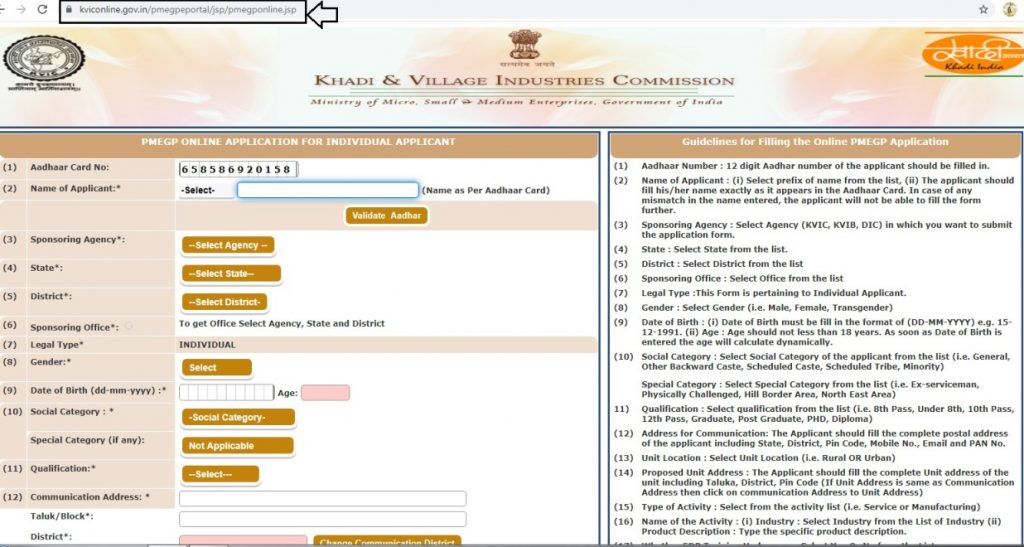 Eligibility Criteria for PMEGP Loan
Applicant should be 18 years and above
Education is also considered as the applicant should have passed the standard VIII test which is considered to be RS 10 for manufacturing department and RS.5/- for the business sector.
You can be a self-help group to get the benefits of the scheme and shouldn't be receiving any one
Charitable trust and co-operate societies are also welcome to the scheme.
How to Submit PMEGP Loan Online Application Form 2020
The Prime Minister's Employment Generation Programme (Pmegp) application process requires a lot of documentation as which should be filled carefully to ensure you qualify to gain the scheme. Below are a few steps to make:
Navigate to the official PMEGP website homepage. https://www.kviconline.gov.in/pmegpeportal/jsp/pmegponline.jsp
On the homepage fill in the mandatory spaces starting with the:
Aadhaar card number which is compulsory for the applicant.
Key in the name and ensure it appears the same way as in the Aadhaar card.
Proceed to enter the sponsoring agent from the choice such as the KVIC, DIC or KVIBs. Here the applicant enters the agency by which they will submit their application.
Next key in your state, district and the sponsoring office which is indicated on the list.
 For the individual applicants, they are to fill the legal type document.
The system requires the date of birth which is written in a given format such as DD-MM-YYYY the age of the applicant will show automatically; he/she should be above 18 years of age.
An applicant needs also to indicate the social category in the society where you have BC, SC, ST, and the general.
Special category space is provided for one to indicate if they are servicemen or physically challenged.
Educational qualifications are important in the application.
Give the communication information like mobile number, email address and postal address are some of the communication agents.
Give the unit you come from like the rural or urban and all the features such as district, address, etc.
The type and name of the activity you are going to undertake.
By indicating yes/no you're to fill on training and the name of training.
Why you require the loan example business.
Key in the bank information for a first and second bank then save all the information after rechecking.
The system will send the applicant ID and password through you're registered mobile number.
Pmegp online application 2020 last date
PMEGP E Portal Tracking
You can check PMEGP Application Status Online PMEGP E-tracking System Here https://indiaclear.com/how-to-check-pmegp-application-status-online-etracking/
PMEGP official website Homepage
https://www.kviconline.gov.in/pmegpeportal/pmegphome/index.jsp