Telangana Adangal, ROR-1B & Pahani, Passbook, 2023 at Maa Bhoomi. CCLA Telangana 1B, Pahani, TS Adangal, ROR, 2023
Mee Bhoomi Telangana Land Records New website (తెలంగాణ ల్యాండ్ రికార్డ్స్ కొత్త సైట్) : Hello friends! As it is known to everyone that, now-a-days all state governments are in the process to digitize the entire records. People can easily access their land records in Andhra Pradesh using MEEBHOOMI website and people in Telangana state (TS) can access their land records using MAA BHOOMI website.
Telangana Adangal, ROR-1B & Pahani, Passbook, 2023 at Maa Bhoomi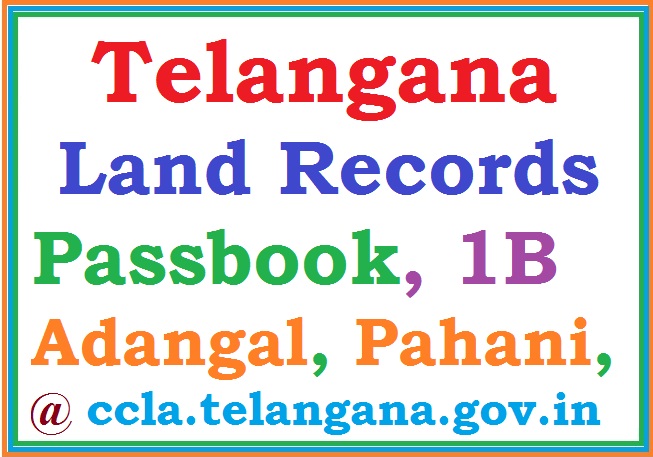 In this article you are going to know detailed information about Maa Bhumi website of Telangana (Ts). Maa Bhoomi is online portal under the control of Revenue department.
| | |
| --- | --- |
| Article Category | Maa Bhoomi |
| State Name | Telangana |
| Use | To digitize land records |
| Responsible authority | Revenue Department, Government of Telangana |
| Official website | http://ccla.telangana.gov.in/landStatus.do |
| Official website to download applications | www.telangana.gov.in/Services/MeeSeva |
Maa Bhoomi
About Telangana Maa bhoomi website:
Maabhoomi website is started by Government of Telangana to facilitate the citizens of Telangana to download their land records like Pahani, ROR 1-B, etc., easily through online portal. The various services provided by maabhoomi website are:
Applying for Pahani or Adangal.
Check your Adangal or Pahani details or ROR 1-b details
Linking Aadhar with your account.
Knowing land records of Telangana using survey numbers
Advantages of Maa bhoomi website:
There are many advantages by digitizing the land records.
Land record can be easily downloaded from any place.
Getting land records through online is easy.
No need to visit the concerned office for Adangals or Pahani.
As it is online portal, it is easier and faster than manual.
Telangana Adangal Pahani Apply Online at Maa Bhoomi
Pahani or Adangal is a document related to your land in Telangana issued by the concerned Tahsildar. This document includes various details like
Name of the land owner
Survey number
Total land
Cultivation resources
How the land is obtained to you
Khata number etc
TS Adangal (or) Pahani Through Meeseva
Procedure to apply for TS Pahani or Adangal through Meeseva (cost of Application at MeeSeva will be Rs.25/-)
Open the official website tg.meeseva.gov.in
Click on government forms.
Select adangal form or adangal correction form.
Download the meeseva form.
Fill the details and add the documents mentioned.
Submit the form at office of Meeseva.
How to Get TS Adngal or Pahani details Through Maa Bhoomi?
The following lines you the detailed procedure to get your land details:
Open the official website http://ccla.telangana.gov.in/landStatus.do
Click on land status in the menu.
Select your district name, mandal name, division, village.
Select khata number or survey number or sub-division number.
Enter the number which you are selected.
Click on "Get Details".
Now web page will be opened with details of your land.
Website Revenue Services 2023
Mutation/Succession
Land Conversion/NALA
Agriculture Income Certificate
Land Valuation Certificate (LVC)
Telangana Dharani Website Registration Services 2023
Certified Copy
Duty and Fee Calculator
Encumbrance Certificate (EC)
Encumbrance Search
Payment of Registration Services
Public Data Entry Slot Booking and Slot Rescheduling
Track your Application
View Receipt
View Unit Rate
Maa bhoomi telangana website not working
Some times maa bumi website is not working due to server problems. So be patience and get ts land records for free of cost.
Maa Bhoomi CCLA Telangana Land Records New Website 2023 Adangal, Pahani & ROR 1B Link (తెలంగాణ ల్యాండ్ రికార్డ్స్ కొత్త సైట్)
http://ccla.telangana.gov.in/integratedLandRegistry.do
For more info regarding Adangal, ROR-1B & Pahani Detils | ఆర్.ఓ.ఆర్-1బి & పహాణి Website for Land Records of Telangana State http://ccla.telangana.gov.in/integratedLandRegistry.do .