The Mahadbt Scholarship 2023 Registration, Apply Online application 2023 Status check, Eligibility criteria, Required documents| Mahadbt Login at Mahadbtmahait.gov.in
Mahadbt
The Maharashtra state government and various departments offer quality educational chances to all eligible students.The education boost helps students reach great levels and attain promising careers. This develops the state and eliminates poverty among families. The Maharashtra government has developed an exclusive online platform to host all scholarship programs in the state. The Mahadbt portal contains scholarship schemes from various government departments.
Mahadbt means Maharashtra direct benefit transfer; it's an open portal for eligible students in the state.To access the portal, applicants need to register and apply for any scholarship program based on qualifications. Under the post-matric scholarship program, students can avail themselves of 38 programs developed under eight departments.
Mahadbt Scholarship
Department under the Mahadbt scholarship
| | |
| --- | --- |
| Department | Number of scholarships |
| Social Justice and Special Assistance Department | 5 |
| Department of Tribal Development | 4 |
| Directorate of Higher Education | 13 |
| Directorate of Technical Education | 2 |
| VJNT, OBC, and SBC Welfare department | 8 |
| School Education and Sport department | 2 |
| Directorate of Medical Education and Research | 2 |
| The Minority Development department | 2 |
Mahadbt Scholarship Portal
Mahadbtmahait.gov.in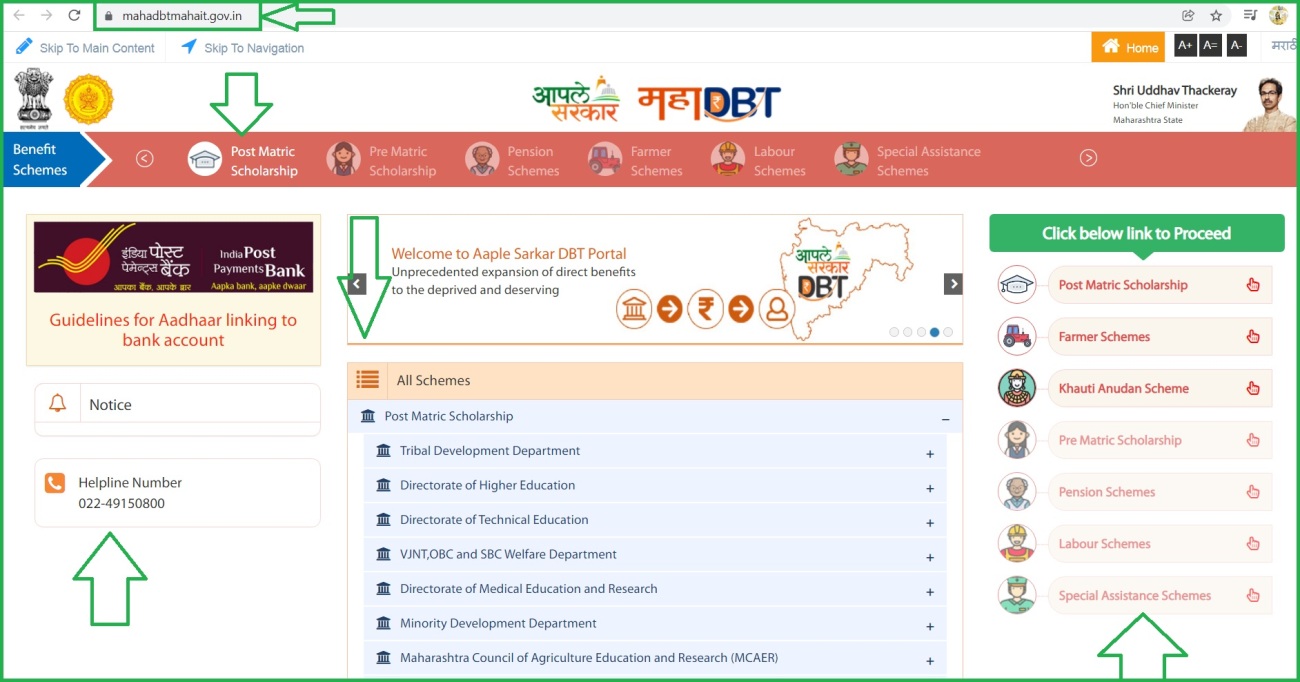 Required Documents for Mahadbt Scholarship
Income proof document.
A high school diploma or GED
Applicant residence certificate.
Aadhaar card
Letter or credentials from the University
Affidavit of caste
Hostel certificate
Disability certificate
Ration card
Birth certificate
Active mobile number
Recent passport photo
Bank account details
Mark sheet for SSC and HSC
Eligibility Criteria
Each scholarship program has its eligibility criteria which eligible applicants should fulfill. For example, the SJSA scholarship applicant needs to have the following.
The annual family income must not exceed Rs. 250, 000.
The applicant must be a permanent resident of Maharashtra state.
One should be from the SC caste.
The scholarship only offers two professional courses.
The application process is available online.
Mahadbt Post-Matric Tuition and Examination Fee
The family income should be less/not more than Rs. 250,000.
The applicant must be a member of the SC caste.
One must be permanent in Maharashtra state.
Before applying, the applicant needs to have SSC, diploma, or degree.
The institution needs to be located in Maharashtra.
Mahadbt Directorate of Technical Education eligibility
There are two programs under the scholarship program: RCSM Shikshan Shishyavrutti yojana and DR. Panjabrao Deshmukh Vastigurh Nirvah Bhatta Yojana.
The applicant should be a Maharashtra resident.
The family's income shouldn't exceed Rs. 8 lakhs.
The course shouldn't exceed two years.
Anyone using a centralized admission process should provide a certified certificate.
Mahadbt School Education and Sports Department Scholarship
The scholarship has two programs, namely: junior college and economically backward class students.\
Junior college
Applicant should be enrolled in class 11th or class 12th.
They need to attain 60% and above in the SSC examination.
Economically backward class students
Eligible students should have 50% in the SSC exams
The student should have a reappear in the board exams.
Mahadbt Scholarship Registration 2023 Process
Visit the Mahadbt website page.
https://mahadbtmahait.gov.in/
Click "post-matric scholarship.
Next, select the "new registration "button to continue.
Enter your name, user name, password, email ID, and mobile number.
The system will send an OTP code to your mobile number or email ID.
Enter the OTP code for verification and click the Register button.
The portal will automatically generate your login credentials and send them to the registered email ID.
Save the details and log in to the Mahadbt portal.
Mahadbt Login
How to login to the Mahadbt website portal
Open Mahadbt website page to access the homepage https://mahadbtmahait.gov.in/
Click "post-matric scholarship" option >"applicant login" tab to continue.
Next, key in your username, password, and captcha code.
Click the login button to access the portal.
How to login on to Institute or Department
Go to the official Portal
https://mahadbtmahait.gov.in/ and click "post-matric scholarship"
Proceed to "institute/dept./DDO login" option
Enter your username, password, and captcha code.
Next, click the login tab.
How to Download College list Online
Open the Mahadbt scholarship page.
https://mahadbtmahait.gov.in/
Next click "post-matric scholarship" > select download college list.
The system will download the list to your device.
FAQs
How many department and scholarship programs are under the Mahadbt scholarship?

The Mahadbt scholarship portal has 38 post-matric scholarships, which eight departments have developed.

How can I access the scholarship programs?

All scholarships are available online through the Mahadbt website portal.The user should open the link https://mahadbtmahait.gov.in/.

Mahadbt Scholarship Helpline Number

022-49150800
For more information about Mahadbt Portal scholarship visit https://mahadbtmahait.gov.in/ portal link