Simple Guide on AKTU One View: Results Details, Eligibility, Helpline number. AKTU One View | ERP Login | Circular and more at https://erp.aktu.ac.in/webpages/oneview/oneview.aspx
AKTU One View
Dr. A.P.J. Abdul Kala, Technical University (AKTU) is a year 2000 establishment that has seen thousands of students excel in different courses. The AKTU institute is represented as a public collegiate University in Uttar Pradesh Lucknow. It holds 800 affiliated colleges, allowing students to learn from various accredited colleges in the state but under AKTU. To handle students, college studies, faculty, and school-related activities, the Institute utilizes digital platforms to reach all stakeholders.
Interested students can enroll through the official website ( https://aktu.ac.in ) to get admission. The University admits undergraduate and postgraduate students using the CUET entrance test. They alos accept the JEE mains scores for people taking B.Tech. Students should check their eligibility and courses offered before requesting admission. Existing students can also check exam results and details through the AKTU one view or the AKTU ERP portal.
Erp.aktu.ac.in/webpages/oneview/oneview.aspx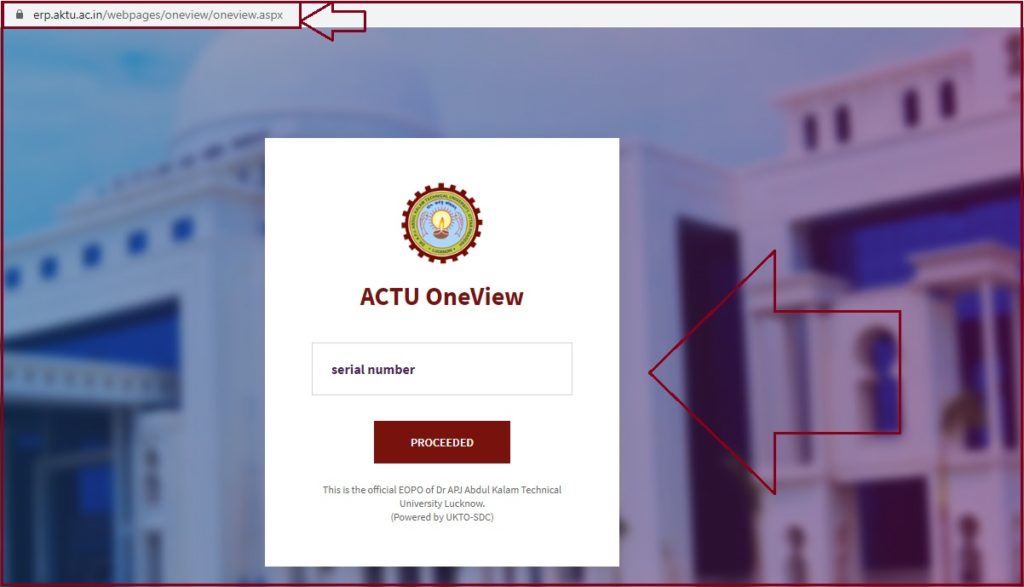 AKTU Application 2023 Process Online
Visit the official AKTU website page and register for the CUET exam.
https://aktu.ac.in
Enter the required details:

Education data
Applicant's name
Address

After the CUET, the respective body will present the results online.
Candidates can proceed to fill the application form with the following details:

Name
Education details
Address

Results of previous exams
The University will review the applications and provide shortlisted candidates.
Proceed to the "what's new" and important link tab on the website.
Note that some undergraduate and postgraduate courses that don't require CUET exams are based on the candidate's education, exam qualifications, and counselling round.
One View AKTU
The AKTU One view is an online platform that helps student view multiple information online. One can avail details on Universities/colleges, results, and students' academic performance. AKTU students must understand the 'Oneview' platform for easy navigation. It's easy to check attendance, exam results, news updates, seminars, placements, fees, and more.
AKTU ERP
Eligible students can access semester exams and results using the AKTU ERP portal https://erp.aktu.ac.in. Every user has unique login credentials (user ID and password). Once logged, one should fill out the application form with the required details. University authorities will announce the semester exam results (2023) via the AKTU One view system ( www.aktu.ac.in ). The student will get the AKTU B.Tech Results 2023 (odd and even) semester on the portal.
AKTU One View Result 2023
How to Check 2023 results on AKTU One view portal
Go to the AKTU One view website portal link
https://erp.aktu.ac.in/webpages/oneview/oneview.aspx
Enter your password and user ID to log in.
Proceed to the AKTU One view Result 2023 link, and enter your registration/enrollment number.
Recheck the details and click submit button.
The system will provide the results on the screen.
Details on AKTU student One View Results 2023 (Mark Sheet Details)
Student's name
Roll number
Semester name
Course name
Aggregate marks obtained
Subject wise marks
Back paper, backlog or not
Carryover or not
Date of results
College Name
University registration number.
Available Services on the AKTU Dashboard
AKTU One view
Exam center attendance
Challenge Evaluation and Security Results.
Student Welfare Cell
Chhatra Kalyan Nidhi
Download Student service app.
Anti-Ragging cell
Track Degree/Mark sheet
Know you college
Fill Exam form
Download for AKTUOneview Admit card
Merger Certificate Download
Download Medium of Instruction.
How to Reset AKTU ERP Login Password
Open your AKTUOne View or ERP portal.
https://erp.aktu.ac.in/frmForgotPassword.aspx
Enter your user ID and mobile number.
Next, enter your registered email ID.
Verify the captcha code by clicking the "I am not a robot" checkbox.
The system will redirect you to a new page, enter your new password and confirm to complete the process.
AKTU One View Challenge Evaluation Portal
The AKTU challenge Evaluation portal is a unique service launched after every release of exam results. The portal helps students who are not satisfied with their results. The candidates can apply for challenge evaluation stating the results they wish to re-evaluate. The University will recheck the details and provide the results online. Students need to use the ERP.aktu.ac.in link.
AKTU Helpline Contacts
Students can reach the University helpline desk using a WhatsApp number or contact number as follows:
WhatsApp number: 6387585945
Contact number: 0522 2336805
FAQ's
What is AKTU dashboard?

The AKTU dashboard is an online platform that provides students with comprehensive University details like exam fees; download Admit card, results, and more.

ईo आरo पीo लॉगिन 2023

https://erp.aktu.ac.in/webpages/oneview/oneview.aspx