How to Book Athi Varadar Special Darshan Tickets Online?
Kanchipuram Athi Varadaraja swamy Special Darshan tickets online booking procedure: To make fast darshan convenient for at least some pilgrims, Devasthanam Committee is releasing 2000 tickets per day for the pilgrims. These tickets are to make devotees to get special darshan of Arulmigu Perumal. The following are the instructions for booking special darshan tickets. Athi Varadar Donor Passes | VIP Pass | NRI Pass | Darshan Procedure full procedure given below.
Athi Varadar in Water Images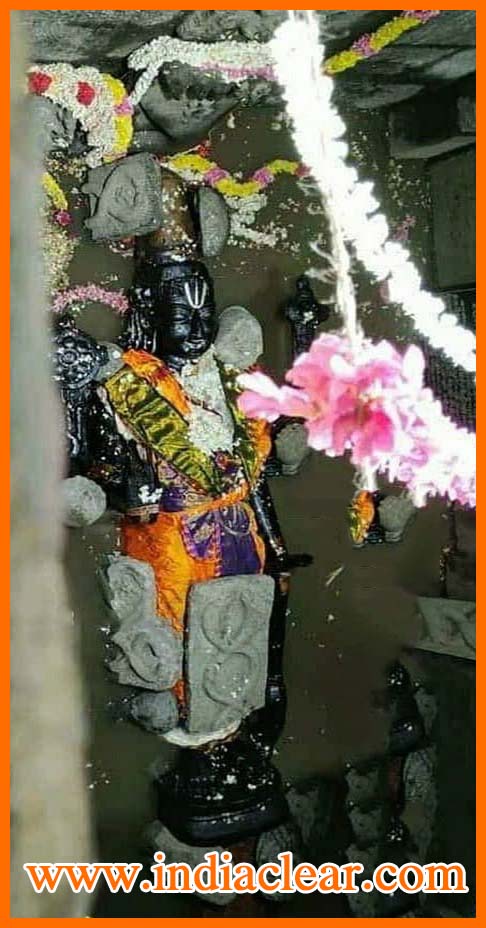 Sri Athi Varadar Swamy goes into Ananta Sarovar (pushkarini) today (18.09.2019). After 40 years we can have next darshan of IDOL made with athi tree.
Athi Varadar Darshan Today Live Crowd Status (16.08.2019). Darshan Closed
| | |
| --- | --- |
| Free Darshan | Darshan Closed |
| 50 rs Darshan Ticket | Darshan Closed |
| 300 rs Darshan Ticket | Darshan Closed |
| Rs.500 Sahasranama Archana Ticket | Darshan Closed |
| Donor Passes, VIP Pass, NRI Pass | Darshan Closed |
Important Notice: Athi varadar Darshan had been closed today (17.08.2019). For Darshan you have to wait for 40 Years. You can get Darshan in 2059
Procedure To Book Athi Varadar Special Darshan Tickets Online Step by Step (Rs. 300) at tnhrce.gov.in
You can easily book special darshan tickets very easily by following the instructions given below.
As a first step, Open any web browser like Google Chrome or Mozilla Firefox etc. In the search bar, enter this website URL (or) Open this link directly https://tnhrce.gov.in/hrcehome/index.php
It opens the official website of tnhrce (Tamil Nadu Hindu Religious and Charitable Endowments Department).
Select English language visible at top right corner of the home page, if you want the text in English.
In the home page, you will find "Special darshan Online Booking" with red color.
Choose your Darshan Booking date and time.
Darshan Time – 6:00 PM to 08.00 PM
Booking dates – Tickets are available all days.
There you can see number of booked tickets, number of tickets pending for payment verification and status (Available or Booking closed).
Check the status, if it is "AVAILABLE", Select "BOOK" option.
Enter all the details like Name, Aadhar number, Age, Gender, Location, PIN code, Email ID, Phone number etc.
If you want to add another member, Tap ADD option. You can use it three times. Since you can book only 4 tickets at a time.
Enter Captcha code.
Select Submit button.
Complete Payment procedure by using Net banking, credit or debit cards.
Download your ticket.
Print it For future reference
You must carry athi vardar darshan ticket print hard copy along with original aadhar card proofs.
If you do not get download ticket option, you can download your e-ticket through e-payment option shown as below.
Athi Varadar Kanchipuram Temple Route Map
How to Get Athi Vardar Darshan for NRIs (Non-Resident Indian) ?
Info about darshan for NRIs at Varadaraja Perumal temple:
Not only people from all states in India, people all over the world are coming to visit Athi Varadararja swamy idol which can be seen only once in 40 years.
So NRI (Non-resident Indian and person of Indian origin) pilgrims interested for darshan and if they are not having any ID proof like Aadhar card from any of the Indian states, they should follow the below procedure.
Indians or natives from any other countries should show their passports for the security people at the temple entrance.
Then they will direct you in a separate queue specially reserved for NRIs.
You can go through that queue for special darshan.
For more information call +91 1800 425 8978 (Helpline Number's) They will help you.
Kanchipuram Athi Varadar Temple Timings 2019 (Tamil, Telugu, Kannada, Hindi, English)
How to Book Athi Varadar Sahasranama Archanai Darshan 2019 Online Booking?
Athi Varadaraja Perumal Sahasranama Archana Ticket online Booking
Arulmigu Devaraja swamy temple is situated at eastern corner of Kanchipuram. The pilgrims interested in participating Sahasranama archana seva can book tickets through online in the following procedure. Since the entire procedure was made online, it became easy procedure to book tickets from home.
Step by Step Athi Varadar Darshan 2019 Rs.500/- Tickets Online Booking Process:
Open the official website https://tnhrce.gov.in ( tnhrce: Tamil Nadu Hindu religious and Charitable Endowments Department)
Or directly you can open this link https://tnhrce.gov.in/eservices/archanaiticket_collection.php
When you open the above link, you will get a home page of Athi varadaraja swamy temple official website.
In that you will find an option highlighted in red color with the name (Shri Athi Varathar Festival 2019 – Sahasranama archanai Online booking).
Open that link.
You will find the Darshan date, Darshan time (06.30 A.M (or) 5 P.M.), booked tickets and book option.
Select BOOK option. It will display application columns and available tickets.
Enter all your details like State, District, name, Aadhar number, Gender, Age, Door No., Location, Village or town or city name, PIN code or ZIP code, Email, Mobile No, Amount (Rs.500.00/-), captcha given below the column.
Tap Submit button.
Continue the Payment process.
Book your ticket by completing the process. You will get an ID or token number. Take hardcopy printout of it while going for darshan.
Kanchipuram Athi Varadar Temple Toll Free Contact Phone Number
How to Book Athi Varadar Special Darshan Online ticket booking (Video in Telugu)
Athi Varadaraja Swamy Free Darshan Timings 2019
| | |
| --- | --- |
| Darshan Session | Darshan Timings |
| Morning | 05.00 A.M to 12:30 P.m |
| Evening | 01:30 P.M to 08.30 P.M |
Instructions for Pilgrims:
Only limited tickets are available for Sahasranama archanai. Its approximately 500 tickets.
You can book only 4 Tickets at a time.
Children Below twelve years age don't need a ticket for darshan.
Pilgrims who are interested should hurry to book their tickets. Because ticket booking will be closed within 2 hours after released.
Kanchi Athi Varadar Sahasranama archana Darshan Online Booking Time
Total tickets was available per day 500.
Tickets are released daily at 10:00 A.M.
Tickets are released 4 days before the date of darshan
Archanai Tickets can't be booked for Saturday & Sunday
When there are no tickets available, it shows that tickets are closed for so and so date.
Only Sahasranama archana seva is done in two sessions every day. (Morning 06.30 A.M)
Complete exponent on darshan of Sri Atthi Varadaraja Swamy temple at Kanchipuram:
People of India and many people all over the world know about the very ancient temple located at the holy city Kanchipuram in Tamilnadu State. Every year lakh of people visit Kanchipuram to get the darshan of Kamakshi Amman and Ekamabareswarar. Along with the main diety temples, there are a number of divya desams at Kanchipuram. It is to be said that there are 108 divya desams (temples) of Lord Maha Vishnu visited by 12 poet saints (Alwars).
So Kanchi had became one of the famous temples in Tamilnadu state. This city is also called as Vishnu Kanchi because it is a land of many vishnu temples. Also this temple became very famous, as it is believed that one of the important Hindu scholars of Vasishta Advaita Philosophy, the great Ramanujan resided at this temple years ago. He great Ramanujan resided at this temple years ago. Among 108 divya desams, Sri Atthi Varadaraja perumal temple is one of the sacred places of Vaishnavas. It is popularly known as Perumal Koil (Perumal Temple).
Legend of Varadaraja Swamy temple, kanchipuram:
The Atthi Varadaraja swamy temple is constructed hundreds of years ago by the Pallava king Nandivarman II. Again it was expanded by kings of various dynasties like Chola, Pandya, Kakatiya, Hoysala, Vijayanagara etc There are a number of changes made from that time to this time. The temple is designed with lofty towers, lengthy walls by using a great architecture. Its archtectonic beauty make pilgrims to get an aesthetic and devotional sense in their minds.
Instead the name of Varadaraja swamy temple, people are most familiar with the name temple of gold and silver lizards. As it is said like that because, when we enter into that temple, pilgrims can see the shapes of gold and silver lizards. There is a belief that, people who touch those lizards will become free from the delinquencies, chronic diseases, sins etc.
Story OF The Gold and Silver Lizards:
Once sage Gautama worshipped the place, at that time while his two disciples offering water for the sage in pooja pots, a lizard fallen in the pot. By seeing that sage Gautama cursed disciples to become lizards. Later they were relieved from the curse by the grace of Maha Vishnu. Their replicas were left on the roof of the temple.
History of the Idol Atthi Varadaraja swamy:
Kanchipuram city, Tamil nadu (TN) state can be called as a place of salvation among southern states. As it contains more than 1000 temples. Of all these temples Sri Atthi Varadaraja swamy temple is one among 108 Divya tirupatis. This temple is most popular because, there is a story behind the idol of this temple. The story is, while our creator Lord Brahma is doing yagna, he ordered Vishwakarma to make an idol of Varadaraya from the trunk of sacred Atthi tree (Fig tree). At that time, that idol was consecrated. From centuries that idol was worshipped by Ramanujaacharya, Vedanta Desikan and many other great scholars, devotees.
But some years ago, while some turushkas are trying to invade all hindu temples, saints of the time decided to save the idol. So they kept the idol in a silver box and placed that box in Aanada Pushkarini, beside the Neerali pavilion (mantapam). After the invasion, because of some reasons the idol is not placed in the Garbhalayam. A new idol was placed instead of that old holy idol.
But for every 40 years that, idol will be taken from the pond and pooja will be done for 48 days. At that time, number of devotees come to Kanchipuram to worship the Lord Atthi Varadaraja Swamy, Incarnation of Lord Vishnu.
Darshan of Ancient Idol of Varadaraja swamy:
After taking the idol from the pond, there is opportunity to worship the idol for 48 days from the day it was taken out. First 38 days, the idol will be kept in sleeping posture (Sayana Bhangima) and remaining 10 days, the idol is placed in standing posture (Sthanika Bhangima).
Darshan details:
Previous Darshan: The idol was worshipped in 1979 before 40 years:
Present Darshan: Now its time for us to worship the idol i.e., 2019.
Darshan period: July 1, 2019 to August 17, 2019
Darshan Timings: 05.00 A.M to 09:00 P.M.
Other Darshan Facilities:
There is Rs. 50 ticket available for fast darshan.
Rs. 500 ticket for Sahasranama Archana & Rs. 300 Special darshan ticket for fast darshan (You have to book online).
How to Reach Kanchipuram?
Kanchipuram is well connected to all the major cities of India. One can reach that place through trains, buses, cars. The nearest route can be find from Chennai to Kanchipuram. It is 71km from Chennai.
By Train: It takes 2 to 3 hours of time by train. There is railway station at Kanchi.
By Bus: It may take 2 to 3 hours of time.
By Flight: If you want to use airways, you must land at Chennai and go from there, as there is no airport at Kanchi
From the railway station or Bus station there are regular buses and autoes to reach the temple. People can easily reach the temple and the darshan of Kanchi Kamakshi Amman (One of the 18 Shaktipeet) and Ekambareswarar and Varadaraja Swamy temple.
How to Book Rooms Near Athi Varadar kanchipuram Temple online?
Pilgrims those who want to reside near the temple should search for other options to book rooms for accommodation. As there is no online room booking facility by using the temple official website (Athivarada Perumal at Kancheepuram temple) . You can book rooms using other websites like (oyo, goibibo, Makemytrip, Paytm ) or any hotel sites.
| | |
| --- | --- |
| Kanchi Athi Varadar Temple Official Website 2020 | https://tnhrce.gov.in/ |
| Athi varadar Toll free number | +91 18004258978 |